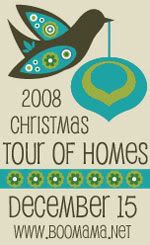 Another year, another tour of the Christmas decor. Click over to
Boomama's
if you want to tour 250 plus homes and see lots of prettiness.
W

elcome to the

M

incy

h

ome! Here we are celebrating the birth of

Jesus Christ

! What a reason to celebrate!!! What would we have done if He did not come to earth?
Just one more picture of my mantle. My faithful readers are surely getting sick of the mantle!!!!
And how I wish I would have made a fire before I took this picture.
Look at the cute tags from one of my etsy favorites-
KadyHope
.
An easy treat to make:
P

e

p

p

e

r

m

i

n

t

B

a

r

k
(click
here
for the recipe). I made this last night in about 15 minutes. Added a few sprinkles and chocolate chips along with the candy canes.
new family favorite Christmas dessert
F
rozen
P
eppermint
D
elight
1 pkg oreos, crushed
1/2 c. butter, melted
1 gallon peppermint ice cream, slightly softened
1 carton cool whip
crushed candycane
combine cookies and butter. Press into an ungreased 13x9 pan. spread ice cream over crust, top with whipped topping and a chunk of candy cane.
***

***

***

***

***

*****

*
So here's my question:

We are trying very hard to keep Jesus as the focus of this season, we have had Birthday parties in the past- with a cake and candles for Jesus. I have thought about having the kids make things to give to Jesus- maybe a letter? Or a drawing? Then maybe put all of these things in a box to look at each Christmas? Does anyone else have any ideas? Kids need tangible ways to show their love. We can talk to God- we can give Him our time and give $$ at church and to the needy....but is there more of a way for a child to give a present to the Lord?
Here
are our Nativity scenes that I did not picture here.